Using Outdoor Rinks
A good way to find out how to use the city's outdoor rinks is to go to cityrinks.ca which is dedicated to these rinks, and is also operated by CELOS (the operator of this website).
But there's quite a bit of information in the Topic here as well (see Topic details). We have maps (for artificial ice rinks, and natural ice rinks), a picture album, and a user guide.
Campfire beside Dufferin Rink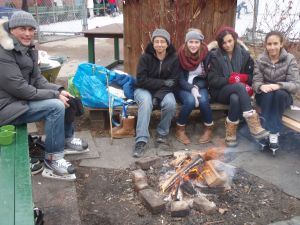 Understanding Outdoor Rinks
As in all facilities, management plays a crucial role. See the Topic details for information about management, regulatory and financial views, notebooks about community initiatives, media reports, and more about Toronto's outdoor rinks.
If you live near a city of Toronto outdoor rink, you may ask yourself how well it's managed:
Are schedules clearly posted?
Are posted schedules reliable?
Are schedules enforced?
Does it occasionally have campfires?
Can you roast hot dogs, marshmallows or corn on these fires?
Does it offer healthy snacks, drinks and hot chocolate?
Affirmative answers to these are a good sign that your rink is well managed. Some rinks do quite well on these scores; some - not so much. If your local rink has issues, you may consider contacting your local city councillor.