Setup: 02-Jul-2012 [1508]
Editor's note: we are currently in the process of moving our Energy Retrofit material from CELOS.ca (here, here and here and elsewhere) to publiccommons.ca.
The City of Toronto Auditor recently (June 2012) reviewed the City's Energy Retrofit Program (report here, details here, management's response here).
CELOS (Centre for local research into public space) has been trying since 2005 to interest city staff in the problem.
..and we went to FOI and then appealed to the FOI Commissioner when the City didn't release the information.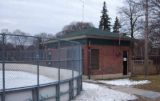 Our reasons for getting concerned in the first place are here.
But despite our attempts the machine rolled along. Finally we sent a letter to the auditor on October 2009. Last year the auditor looked into the situation -- an amazing time lapse.
It's projects like this that contribute to the $90 million increase in the Parks Forestry and Recreation operating budget in the last six years.
And then the permit fees start to rise, so that less and less of tax-funded public space stays accessible....
Here is a CELOS deputation to the City's Audit Committee responding to the Auditor's report.