April 2, 2013: email to Ombudsman's office, sending documentation and a request for help.
April 12: phone call from Ombudsman's office, saying that the director would be speaking with Transportation within a week or two.
June 12, 2013: phone call to the Ombudsman's office asking where the complaint is, in the complaints process. (Left message with staff Kwame Addo.)
Also, here is an interesting link to Ombudsman Fiona Crean's report "investigation into the Parking Ticket Dispute System in Toronto." The ombudsman points out that "the information that appears on the parking infraction notice downplays the trial option and gives no indication that tickets are in some cases cancellable without attendance in court.The information on the City's website highlights the payment option over the trial option and does not provide adequate information about other avenues through which recipients' concerns may be raised.
The City of Toronto Parking Ticket Cancellation Guidelines are not accessible. The general public is not aware of them. Staff at Parking Tag Operations offices can respond to recipients' queries about parking tickets and are authorized to cancel tickets as provided by the Guidelines. However, unless they are directly asked, staff do not offer any advice prior to filing the recipient's trial request on whether the ticket is one that is covered by the Cancellation Guidelines."
In other words, collecting fines may be the city's key interest, just as it seems to be in the "disabled parking" matter raised here.
June 14, 2013: Mr.Addo from the ombudsman's office emailed that he would call in three days to give an update.
July 18, 2013: no call back yet from Mr.Addo, so I sent another email. Mr.Addo called back and reported that he had spoken to Jacqueline White (head of Transportation) and she had told him that it was impossible to add curb or street markings. Mr.Addo suggested meeting at the site, with others who had written letters, and sent some possible dates.
July 24 2013: all three major newspapers report a pilot project, prompted by Mayor Ford, to paint red warning markings on curbs near fire hydrants and TTC loading zones: here from The Star
August 21 2013
Site meeting with Ombudsman's staff Kwame Addo and Nancy Ferguson, Christine Lever (Music Therapy Trust), Pete Lilly (BIA), Michael Monastyrskyj (Diggin Residents' group), David Cayley, Jutta Mason. Discussed the issues at the parking space and at a nearby coffee shop. Mr.Addo said he'd be in touch to follow up.
September 2, 2013, e-mail to Kwame Addo If we understood you right, one of the first steps of your office may be to set up a site meeting between our group, an Ombudsman staff person, and a Transportation staff person responsible for road markings. That would be a good start.
I have added Councillor Bailao's constituency assistant Michael Vieira back into this chain. He was involved for the first year or so, sadly without being able to set up any direct meeting. Do you agree that it would perhaps be helpful if he also attended any future meetings?
Sept.12 2013, email from Kwame Addo: With respect to a site meeting, I think that you may have misunderstood. What I meant to say was that our office (Ombudsman) would be meeting with representatives from Transportation Services to discuss the issues/concerns raised by the group, to see if there was an opportunity to find a resolution. Since our meeting, Transportation Services has agreed to meet with Nancy and I, and we will report back on the outcome.
As for involving the councillor's office, we wouldn't be providing Mr. Vieira or asking him to become involved in our review, as he is not the complainant.
Sept.13, email to Michael Vieira: The ombudsman's office have let me know that this is not a matter for involving the councillor's office since you are not the complainant. However , since you tried very hard to get some help from Transportation, I'd like to reconnect you to this issue -- especially because this issue is in public discussion already and will probably be more so again.
Hence the cc here to Nancy Ferguson (from the ombud's office), as well as the others who were at the August meeting. Nancy is now the lead on following up this complaint. I just spoke to her and she says that she and Kwame Addo will be meeting with Transportation early next week.
Sept.13 2013, email from Michael Vieira: Please keep me posted on this. Also, just so you are in the loop, Transportation Services introduced a pilot project a couple of months ago that consists of painting curbs with red paint to indicate 'no parking.' If this pilot project is successful, we can see if they would consider marking accessible loading zones as well... Just a thought...
Sept.13, 2013, email from Pete Lilly to Kwame Addo I just thought it relevant to send along this photo (taken yesterday afternoon) of a new customer of mine 'discussing' the ticket he was receiving for mistakenly parking in the handicapped spot. My customer is a long-serving professor at U of T -- as kind a gentleman as he is intelligent, clearly capable of reading and comprehending a sign.
Obvious in the photo is the fact that there are spots in front of his car and behind -- he didn't park there for lack of other options.
He asked when he came back into the store (after an unsuccessful 'discussion') if there were any markings on the pavement or curb as he didn't see the signs. Sadly we know the answer.
I look forward to resolution of this crazy issue.
Sept.15 2013, email from David Cayley to Michael Vieira I am responding to your suggestion to Jutta that Transportation's pilot study on red curb marking might provide an eventual solution - several years down the road, presumably - to the problem of the badly marked disabled spot on Bloor opposite Music Therapy and Sweet Pete's. As you will know from Pete Lily's recent letter, this spot continues to entrap and penalize the innocent. The problem is obvious, and ongoing, and the solution is simple: provide proper street marking now. An amazing amount of citizen time and effort has already been invested in demonstrating the common sense of this proposal. It doesn't require further research but prompt action.
Oct.1, 2013 Over the past two weeks there have been a number of conversations with Nancy Ferguson (416 392-7185) from the Ombudsman's office. She said that Jackie White of Transportation told her they would consider putting two hooked lines on the roadway, indicating the limits of the loading zone, but nothing more. The problems with doing more, for instance applying the international wheelchair marking, are (1) it's all or nothing, if one arterial road zone gets a wheelchair marking they will all need to get them and (2) the cost is prohibitive and (3) maintenance would be difficult. Ms.White also indicated that Transportation does not intend to track the results of adding the boundary lines for the loading zone.
We did some research about the cost of applying the international wheelchair symbol to the roadway. A parking lot marking company said each marking would cost between $25 and $35. Two road marking companies were called (we got their numbers through 3M Canada, who were very helpful). Janet of Total Traffic Services (905 678-9779) said that paint (not plastic) would be the way to go, and it would cost between $125 and $150 per space. John Ferrari of Guild Electric (416 288-8222) did not return our call.
Nancy Ferguson said that Transportation now plans to look into their cost estimate. I mentioned that this section of Bloor Street is next on the list to be dug up and repaved anyway, requiring all new street markings (including the bike sharrows) and so there would be no extra trip by a contractor needed to add the wheelchair markings at this location.
Oct.2 2013, from Matthew Hamilton.
I recently was handed a parking ticket for having parked partially in the loading zone in front of the Music Therapy Centre on Bloor Street.
My contention is primarily with the steepnes of the fine given the circumstances... the ticket was written at 12:30 AM on a Saturday night, a time at the which the centre does not operate. I do have high respect for the necessity of a loading zone in its current location, however, not only is the current signage confusing, but I feel a $450 fine is unfair given that I parked there nowhere near a time at which the loading zone is in use.
It's things like this that damage the relationship between civil servants and the public. Does this not matter to them? And above that: what about basic and obvious fairness? I find this infuriatingly irresponsible on their part. It's not like they have to move mountains to change the signage...
A letter to the ombudsman from: Matthew Hamilton, cc'd to CELOS
About a week-and-a-half ago I parked my car on Bloor Street, near Duffy's Tavern, to attend a small gig a friend organized on showcasing some local indie music talent. I myself am a musician whose band has something of a small, but growing, following in the community so I try my best to attend these events despite my busy schedule. Supporting developing artists is important to me as a means of community-building and, most important, enriching my own life.

After the show wrapped, I returned to my car to discover I'd been ticketed. I was baffled at first because I thought I'd correctly read that parking enforcement ended hours before I'd parked. To add to my confusion, I had left my car parked between two others vehicles with no visible, unique permitting on their dashes. Being from Mississauga, I don't always notice everything in the vastly more crowded visual landscape of Toronto, so I try to heed the examples of others around me for various things such as this to get an idea of whether I'm doing something I shouldn't be... And so, in the confusion I read the ticket and discovered that I was now responsible for paying a shocking four-hundred and fifty dollars for an infraction I was still unclear of. Thus, I read on: the offense was "standing in a handicapped loading zone."

Now before I give you the impression I want to dispute the charge, let me say: I don't. I respect the utility of these zones. I believe that, though they play a very minor part in the daily lives of the majority, they are of an essential group of infrastructural features in our society that make it a first-class place to live. Features that we have implemented because we are fundamentally humane. And in keeping with that, I do believe that I made a mistake worthy of some punitive response.

However, it has come to my attention that numerous others have made the same mistake. Here's where I begin to see a problems that need addressing...

Having been in touch with Jutta Mason, I've learned that in three years the zone I wrongly parked in has netted the city $155 000 in ticketing revenues. At $425 a ticket, that's 344 tickets. 344 incidents. Though that doesn't still fully address the problem...

The loading zone serves The Music Therapy Centre of Toronto. I spoke with an administrator there named Christine. She claims to have to tell 4-5 motorists a day that they are parked in a handicapped loading zone.

For so many people to make this same mistake it is obvious the problem is more than just mass negligence. I have never come close to parking in a handicap spot in any of the hundred malls and/or plazas I've visited in this country. They are clearly marked with large, cautioning symbols. And, let it be said, their utility is the same as the municipal handicap loading zones we're talking about. So why is it not incumbent upon the city to heed this example and prevent motorists from making the mistake I've made? Especially when there's such an easy fix. And yet...

I've read neither a clear nor fair explanation as to why the city doesn't enact such a fix. And sadly as a result, my confidence in civil servants dwindles. Dwindles even further. No one seems to benefit from the zones remaining poorly marked. No one other than the city, that is. The numbers speak for themselves. One hundred fifty five thousand dollars in revenue. Revenue.

Revenue that comes at what cost?

The Music Therapy Centre is a charitable foundation and solicits donations to fund its operations. This money goes to waste every time Christine or her associates has to leave what they job to inform, often angry, motorists of where they cannot park. What is the city doing to assist this charitably-funded mental health institution?

I now have to face paying $450 for partially parking in a handicap loading zone. The ticket was issued at 12:31 AM on a Saturday night. The Music Therapy Centre closes hours before that. Regularly. I can understand being ticketed during their operating hours and having to pay a hefty fine for being negligent to the handicapped. That is fair. However, is it fair to have pay such a steep fine for having parked in a poorly visible handicap loading zone during hours far removed from when it is in use? Add to this the fact that I am an artist who supports the local arts community and does so for very little money and often at my own expense, I am understandably infuriated.

The fact that the city remains opaque and unclear on the matter of fixing the visibility of zone signage here is the most upsetting because it displays a lack of responsibility. It is just another instance that damages the reputation of civil servants and further erodes the effectiveness of public office to represent its citizens. Though this may not be the biggest issue in the grand scheme of things, it deserves fair and proportional attention. That is a cornerstone of democracy on all levels. Anything less is inherently undemocratic and unacceptable. We are a society of humane people, exceptions should not be made lightly.

Thank you for reading.

Sincerely,

Matthew Hamilton
October 11, 2013, email from Nancy Ferguson, ombudsman's office:
Transportation has advised this week that the cost is estimated at $270 for the accessibility symbol using a thermoplastic application. As it is a durable material the maintenance cost would apparently be minimal. The two yellow lines that Transportation Services has proposed would cost $30 to install. There is also apparently some additional labour for both types of work in controlling traffic and this cost would be higher for the accessibility symbol application.
October 11 2013, email to Nancy Ferguson from Jutta Mason
re: thermoplastic road markings: Janet from Total Traffic Services (one of the two main companies that does Toronto road markings) told me that paint lasts much better than plastic on a roadway that gets a lot of salt and plowing in the winter. That's Bloor Street, in other words. Paint is also cheaper ($125 or less for the wheelchair sign)).
Re controlling traffic -- I'm not sure I understand this. If it refers to traffic control while new markings are being applied, yes, that would normally need extra staff, but not in this case of Bloor Street reconstruction. The newly paved street-half would be closed anyway while all the new markings are being applied.
The other minimal cost would be for monitoring the effects of this pilot. The City already keeps all its ticketing data (through Court Services). A simple request to send the new ticketing amounts for that location to Open Data every four months would allow both staff and residents to check on the success or failure of these markings. The other half of the monitoring would come from Music Therapy, whose staff could keep a record of the number of times the disabled loading zone is blocked after the wheelchair symbol is added. That record could be forwarded to the city and to residents every four months as well. Within a year (before the paint wears off) we would all have the pilot results.
October 15, 2013, email from Michael Vieira, assistant to City Councillor Ana Bailao
Please be advised that Councillor Bailão has been supportive of such an initiative for quite some time now. In September 2011, the Councillor wrote to Andy Koropeski requesting that pavement markings be painted at the accessible parking spot in front of 1173/1175 Bloor Street West to assist in demarking it. Unfortunately, nothing came out of that request as Andy was not supportive of introducing the pavement markings at the time.
October 16, 2013, email from Jutta Mason to Ombudsman staff Nancy Ferguson
The road work on Bloor is now happening. The parking machines have been removed, some of the trees have been cut down, and obviously the construction crew are are ready to roll in with their machines very soon. The business owners have not yet received an update. But the public notice went out last month saying that this phase of the work extends to Lansdowne -- well past the disabled loading zone.
June 6 2014, email from Christine Lever, the Music Therapy Centre to Jutta Mason
"the spot outside the Music Therapy Centre has been marked. It hasn't been marked with a wheelchair symbol but the space has been outlined in white paint. It was done at some point during the night. So far the only vehicle that has parked there has been the beer delivery truck for Three Speed. That's certainly not the norm so progress has been made."
August 12, 2014, Steve Rennie, The National Post: "A hydrant that is the scourge of motorists"
The article says that between 2008 and 2014, a fire hydrant set back 20 feet from the street, at 393 University Avenue, has become a "cash cow" for the city, generating $289,620 in parking tickets. "No markings on the street make it obvious that the spot is off-limits....the city has collected more than $24 million since 2008 for fining people who parked too close to hydrants." Mentions another hydrant at 33 Elmhurst Ave. which "lurks in the shadow of a large condo building..." It made $207,030 in parking tickets since 2008.
The article also says that the city makes about $80 million a year from parking fines. Conclusion: if there were clear markings, the fines would plummet, and the city depends on that income. So no clear markings.
August 18, 2014, from Christine Lever of the Music Therapy Trust:
"...having the lines drawn has made a difference. There are far less people parking in front of the Centre now. I think the street signs are also more visible now as the tree that obscured one sign has been removed. The new tree has been placed behind the sign so it won't be obscured in the future."
August 23 2014, photo taken on an arterial street in Montreal
In Montreal, the international wheelchair logo is painted on arterial roadways at disabled parking or loading spaces. But in Toronto, the municipal government does not allow the logo on public roadways, only at municipal parking lots or garages.
September 4,2014, letter from Kwame Addo, Director of Investigations and Conflict Resolution, Office of the Ombudsman, City of Toronto
....We have conducted research on the requirements for signage, the City's current Accessibility Design Guidelines and the approaches used by other jurisdictions. We also had numerous discussions and meetings with staff from Transportation Services (TS) including General Manager Stephen Buckley to discuss your concerns.
TS is not willing to add the international symbol of accessibility as suggested by your group. Its reluctance arises primarily out of concern that it would lead to requests at other locations and create a resource issue. TS states that the cost of applying this type of signage, even if limited to loading zones on arterial roads, would be quite substantial when maintenance is factored in.
....TS has taken the following steps in response to your complaint:
removed a tree that was partially obstructing one of the signs above the loading zone;
installed two yellow lines on the pavement perpendicular to the curb to mark the beginning and end of the loading zone, as a visual cue to help improve notice about the loading zone;
requested and received assurances from Toronto Police Services that enforcement will be enhanced to help ensure the loading zone is available for clients of the Music Therapy Centre.
There is no formal plan to monitor the site once the two yellow lines are installed......Based on our review of the current signage requirements in legislation, the signage that was in place and the signage that has been added, and given that TS has agreed to receive future feedback on this issue. we do not believe further investigation is warranted and your file with our office will be closed.
September 16 2014, letter from Jutta Mason (CELOS), responding to Kwame Addo (office of the ombudsman)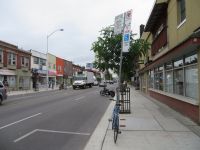 September 2014
I recently received your letter of September 4 2014, about file # 2013 – 1262.
You made three points outlining actions:
1. The city removed the tree that was obstructing the "disabled loading zone" sign.
2. The city installed yellow warning lines
3. You requested further attention from the police for this zone.
In response to these points:
1. The city removed all the sidewalk trees on that stretch of road because of reconstruction. Then they planted a new tree eight feet from the sign, which will grow to a span of 15 feet or more and may once again obstruct the sign (see photo).
2. There are no yellow lines, only ordinary white ones (see photo).
3. The police have been giving out lots of tickets at this site already – my original complaint was that an illegal parking spot in an unexpected location could yield a cash cow for the city's budget – a conflict of interest that ought to be avoided.
You also mentioned two other points, and I have these comments:
1. that you researched signage in other locations. -- Which locations? I only researched one. Please see the photo from Montreal, where the wheelchair sign is used on arterial roads.
2. that it would be too costly to apply this kind of pavement signage. – The city has recently installed many hundreds of pavement bike symbols on its newly designated bike routes. Why not try out a few wheelchair symbols?
Please note also that my original request was to use this location as a pilot – paint a wheelchair symbol on the pavement and then monitor the tickets over a period of a year to see if the sign helps. I see that the city is not curious about such a pilot, although the cost would be minimal.
I will continue to keep up the web pages I started, and collect information as it comes in, as a resource for future public attention to this question. One focus will continue to be the city's possible conflict of interest in avoiding better signage.
September 17, 2014, Letter from Jutta Mason (CELOS) to Stephen Buckley, general manager, Transportation Services
This letter is a follow-up our group's complaint about insufficient signage at a disabled loading area on one of Toronto's arterial roads. I enclose a copy of the letter I dropped off at the ombudsman's office yesterday, after they said they were unable to get any buy-in from your division.
I note that even the limited promise to put two warning yellow lines on the pavement at the Bloor Street location did not happen. There are only two ordinary white lines – not an attention-grabber. A new tree has been planted near the signs, which may obstruct the sign again as it grows.
And in a more general way, it's evident that TS has no curiosity to try even the pilot (with the wheelchair symbol) that we asked for, at this single site. Too bad – it could really establish, at minimal cost, whether such a symbol makes a difference.
As for the cost, which was apparently one of the big issues for your division – according to our freedom of information request, this single site generated over $150,000 in parking tickets in the two and a half years from mid-2008 to 2010. I think the city can afford a wheelchair-symbol pilot there – if the parking ticket cash isn't already earmarked for general revenues. And if it is going into general revenues – why?
September 19 2014, letter from J.Mason to Jaqueline White, Director of Transportation Services for Toronte/East York
The ombudsman's office recently wrote our group a letter saying that Transportation Services has "installed two yellow lines" at 1173/1175 Bloor Street, to warn about the parking restriction. Yellow lines are certainly more noticeable than white ones. But the lines that are there now are white. Do you plan to put yellow lines there, as agreed?
Discovery of very well-marked disabled spaces at a City of Toronto Community Centre, Sept.20, 2014
The East York Community Centre is located right on a commercial stretch of Pape Avenue. Perhaps because customers of nearby stores would be tempted to park there, three disabled parking sports are brightly marked. The pavement of the three spaces is entirely covered with sky-blue paint as well as the wheelchair symbol. A city employee who happened to be in the parking lot said that the city would never mark its street spaces with such obvious pavement markings -- "they want the income from the parking tickets."
---
See also: