Road access to paved path by rink
From Parks supervisor Peter Leiss,to Councillor Adam Giambrone, Nov.3 2006
As part of the paving at Dufferin Grove we have installed fold down bollards at the north end at Gladstone. These have been installed for sometime and are fully functional. We we will also move the curb stones back in place to restrict access. Earlier this year we were requested to remove the cub stones at the south end of the park at Gladstone. Let me know if you want these replaced now.
From Jutta Mason to Parks supervisor Peter Leiss, Nov.3 2006
better not to replace the curbstones at the south end, or at least make a plan on-site for how to prevent a situation like the one this past summer, where residents have their cars trapped in their laneway. The north end needs a bit of thought, but first the paving problems have to be addressed.
From Jutta Mason to acting Parks supervisor Dave Chapman, Nov.7 2006
I noticed today that there's a new marking for the Dufferin Rink zamboni path, for when the pavers come, to make the turn into the rink work better. Great!
And since they haven't begun yet, could I point out one more problem:
The curb at the street at the north end of the path has a bigger step than normal. So as soon as you put the barriers back beside the path, cars will have trouble there, hopping the curb straight on. E.g. a police car ripped off its muffler on Oct.28, and even the farmers with small trucks say they're having problems.
Could the pavers please put a little asphalt ramp (or whatever you call it) at the curb so that there's no damage to vehicles? This will equally be a help for flying squad zambonis (not uncommon at this rink, and I have a gory photo of pink hydraulic zamboni fluid in mud and snow, after a previous curb mishap). And for bikes and walkers and people with strollers.....
From Chris Gallop, assistant to Councillor Adam Giambrone, to Jutta Mason and City Transportation staff Andy Koropeski and Rick Helary, Nov.8 2006
I don't see any reason why something can't be done about this curb cut problem. I am referring the issue off to our Transportation staff for them to look into.
Andy and Rick, can you please figure out what the best option for dealing with problem of vehicles bottoming out on the curb cut at the north end of Dufferin Grove park is? The location is where Gladstone intersects the north end of the park.
Please let everyone know your timeline for making these adjustments, ideally this should be done before the rink season starts on Dec. 2nd to improve access for the zamboni.
From City Transportation staff Any Koropeski to everyone, Nov.8 2006
Regarding the below noted requests and attached e-mail, Rick Helary of Transportation Services will have our staff review this location and work with Dave Chapman on solutions. We'll advise of findings.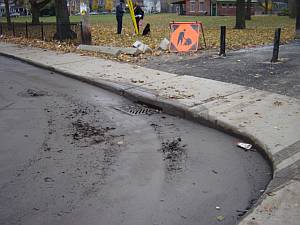 high curb for catch basin
From acting Parks supervisor Dave Chapman to Chris Gallop, assistant to Councillor Adam Giambrone, and to Nov.8 2006
There is a good reason why it may not be possible. The reason the curb is a little higher is because there is a Catch basin at that location and it is low to provide water drainage. I suggest a less permanent possibility of using a Wooden wedge say 3" high by 3" deep and 8' long to put up against the curb as you require. This will also alleviate the possible problem of a hidden obstacle during the winter. (if it is left in place and a plow vehicle clearing the street hits it, it would move and not cause possible vehicle and staff damage) My information is that the raised curb did not cause the damage to the police car but rather the locking post did. I visited the site this morning with Doug Muir of our Tech. Services section and I believe he would agree with this suggestion as a quick fix. Maybe the transportation Dept. has a better idea?
From Jutta Mason to acting Parks supervisor Dave Chapman, Nov.8 2006
No harm in trying your wooden wedge solution, eh?
Who would build it, and when?
If the locking posts can rip off a muffler, is there a better kind of post?
From acting Parks supervisor Dave Chapman to Jutta Mason and all the others, Nov.9 2006
I spoke to the carpenters this morning and they will try to drop off two 4'long wedges at Dufferin tomorrow. This is just a "Quick Fix" while we talk about a possible long term more permanent fix.
From Jutta Mason to Parks supervisor Peter Leiss, Nov.12, 2006
As you'll see, the paving at Dufferin Grove didn't get done while you were away, and the wedges that Dave Chapman said were coming (to help cars/trucks get up over the curb) didn't come either, or at least no one has seen them.
The farmers on market day did say that the jump up over the curb to the paved path is tricky for even their small trucks if they take it straight on. So I'm afraid we have a problem here. I gather that lowering the curb (like at all intersections) will be the best thing. Until then, I guess the trucks (and the flying-squad zamboni, when it's needed) will have to use the same route as before, coming in at an angle, partly driving on the sidewalk and then turning back toward the paved path. That means more mud.
From City Carpentry supervisor John Howitt to Jutta Mason, Nov.13, about the wedges:
Mike and Bob are working on the rink at Dufferin Grove today and have them in their truck for you. Cheers.
%block lframe%Maintenance-Photos:pathWedgesNov1306.jpg | %center%[-path wedges-]
From Jutta Mason to City transportation staff Andy Koropeski, Nov.13 2006
...as you can see, the wedges are so small and steep that I don't think they can protect any muffler or zamboni hydraulics. We know from past winter experience at this park entry-point that damaged zamboni hydraulics bleed pink, and nobody likes to damage their muffler or their catalytic converter. Any chance that the curb could be lowered here, ground down, whatever, before rink season? That would be so helpful.
From Jutta Mason to Parks supervisor Peter Leiss, Nov.15 2006
The deep curb problem at Gladstone still needs to be addressed in time for the zamboni (no more farmers' market on the rink, so no farmer trucks will be going up that bad curb).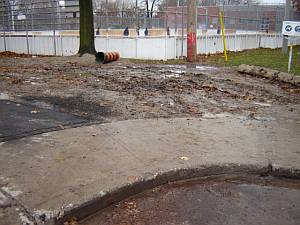 mud ruts beside new path
From Jutta Mason to Chris Gallop, assistant to Councillor Adam Giambrone, Nov.20 2006
I'm a bit puzzled, what to do here. Now that the asphalt path has been repaved so nicely, we still have the problem that the vehicles can't get up the steep sidewalk curb without damage, and so they all still go up over the lower part of the sidewalk, to the side of the path. As you see, that means the area beside the new path is an impressive mess of mud ruts.
The farmers haven't been using that entrance anymore, since the market is now inside again, but City vehicles and cops alike are making the ruts worse and worse. Sandy Straw and Peter Leiss are both on holiday, and Andy Koropeski may have got distracted with something else (he didn't answer my Nov.13 update). I gather that the only real solution is to grind down the curb so it's as low as an intersection. Do you know how this can be brought about?
From Chris Gallop, assistant to Councillor Adam Giambrone, to Parks supervisor Peter Leiss, Nov.24 2006
I was talking to Rick Helary, the manager of Road Operations for our area, about the problem with the curb being too high at the northern entrance to Dufferin Grove Park.
Rick thinks it shouldn't be a problem for Transportation to rebuild the curb, even with the catchbasin there. Before they can act, however, they need an official request from Parks, in writing, for a curb cut at that location.
Since Sandy is still on vacation, can you please send a request in writing on behalf of Parks to Angie Antoniou, Manager of Right-of-Way Management, and then Transportation will take carriage of this project.
From Jutta Mason to Chris Gallop, assistant to Councillor Adam Giambrone, carbon copy to Angie Antoniou, Manager of Right-of-Way Management, Nov.25, 2006
I'm grateful that this seems to be moving toward a solution, and I'm sure the zamboni drivers and crook-seeking police will be grateful too. Please let me know when this project is being done, so I can write a good-news story for the December newsletter.
From Parks supervisor Peter Leiss to Chris Gallop, assistant to Councillor Adam Giambrone, and Jutta Mason, Nov.15 2006
I have forwarded a request to Transportation to have the work done. I am waiting a response from them.
I will let you know when that is forthcoming.